--- Marriage Anarchy ---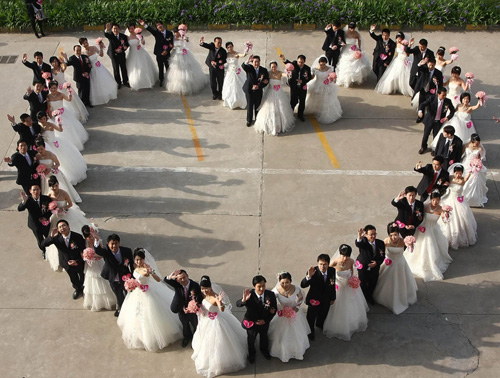 I now pronounce you all…whatever you demand to be pronounced
Evangelicals for Marriage Equality
This group advocates legal recognition of same sex marriage.
Hooray!
Finally, some Evangelicals are getting with the program.
Getting rid of their antiquated convictions.
Good for them!
No time for standing on principle.
Homosexuals want to file joint tax returns!
And whatever gay people want, by golly they should have.
98% of the population give the whining minority it's every whim.
Democracy in action.
It's beautiful.
But it doesn't go far enough.
What about same sex quartets?
What about a sextet?
Four men and two women who bowl together on Tuesdays.
Fall madly in love and want to be legally married.
Do Evangelicals ignore them?
What about the mixed softball team?
Their love should be acknowledged too!
Someday I hope there's an elderly man
two elderly women
six teenage girls
two dozen fraternity boys
a trans-gender trio
a potted plant and a toaster oven,
joined together in loving matrimony.
Anything goes in the name of 'Love'.
Heterosexual couples have hogged marriage long enough.
Open season on traditional institutions!
And isn't it about time?
Seriously.
We're on a roll now, Evangelicals.
Hey, gay folks,
is there anything else we can do for you?